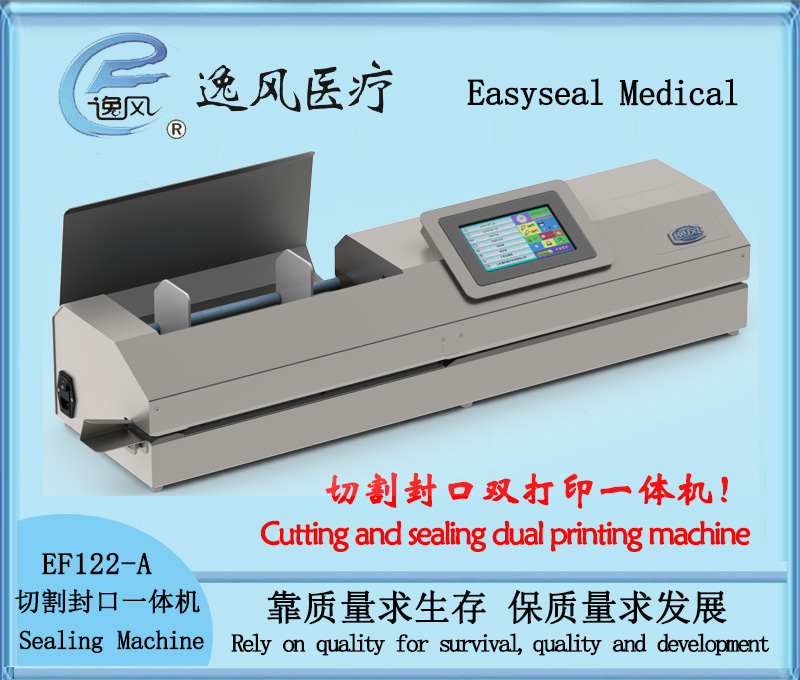 Main Features
■Automatic feeding, cutting sealing and printing: You only need to set up the length and quantity of the paper-plastic pouches as per the requirements and start the program, then the machine will automatically feed, cut, seal the pouches and print out all the selected parameters in 2 lines and in Chinese or English language;
■Multi-purpose machine: Cutting, sealing and printing of paper-plastic pouches can be realized separately or at the same time to improve the working efficiency;
■Adjustable sealing margin: Depending on whether printing is necessary to improve the utilization rate of the pouch rolls by adjusting the distance between the cutting and the sealing edges;
■If necessary, several rolls of paper-plastic pouches with different widths could be loaded into the machine at the same time to improve its working efficiency by cutting off the edges simultaneously;
■7"colore capacitive LCD touch screen with built-in Andriod operation system, graphical operation interface, voice reading, voice prompt,auto-saving and Wife wireless connection;
■In-built LCD touch screen can be used to set up or change the operation parameters and the printer will print out all the selected parameters;
■Temperature controlled by a microcomputer, accuracy ±1%, random setup of working temperature range 60~220℃;
■High-speed increase of temperature: only 40 seconds required from ambient temperature to 180℃; high efficient and energy saving;
■Auxiliary temperature reduction design: The in-built microcomputer controlled temperature reducing device reduces the waiting time from high sealing temperature to lower sealing temperature;
■Safe operation: If the sealing temperature outranges the setting range for more than ±4℃, the machine will automatically stop working, which effectively guarantees the seal quality and safety.
■Automatic failure alarm and automatic detection during working;
■Complete optional accessories, such as the roller worktables and multifunction worktables.
■OQ function and WS310.2-2016--Second Part: Packaging Instrument compliant.
Technical Data
■Control System:7" color capacitive LCD touch screen
■Sealing Speed:10±0.5m/min
■Sealing Width:12mm
■Cutting Length:≥100mm
■Sealing Margin:0~35mm adjustable
■Working Temperature:60~220℃ adjustable
■Temperature Control Precision:≤1%
■Type of Printer:needle printer
■Ambient Temperature:10~40℃
■AC Power Supply:110V/220V±10% 50Hz/60Hz